Sportsman's Warehouse Holdings, Inc. Announces Appointment of Scott Walker as SVP of Merchandising
May 20, 2019 at 8:00 AM EDT
MIDVALE, Utah, May 20, 2019 (GLOBE NEWSWIRE) -- Sportsman's Warehouse Holdings, Inc. ("Sportsman's" or the "Company") (Nasdaq:SPWH) today announced the appointment of Scott Walker as SVP of Merchandising effective May 20, 2019. Walker will lead the Company's merchandising efforts and initiatives.

Jon Barker, Chief Executive Officer, said, "I am very pleased to announce that Scott is joining our leadership team. Scott's previous experience serving in various merchandising roles at outdoor sporting retailers complements the talent of our existing team. His breadth of experience across multiple categories makes him a great new addition. We are very excited to have him on board and look forward to benefitting from his expertise."
Mr. Walker commented, "I am thrilled to join Sportsman's Warehouse given their dominant positioning in the outdoor industry. I have long admired their success in providing best in class customer service and an expansive product selection at everyday low pricing. I look forward to working with Jon and the rest of the Sportsman's Warehouse team and contributing to the future growth of the Company."
Mr. Walker has 30 years of experience in the outdoor industry in leadership positions with major sporting goods and outdoor retailers.  Scott most recently served as both Chief Purchasing Officer at United Sporting Companies from September 2010 to April 2019 and President of Ellett Marine Distribution. Previously Mr. Walker held key merchandising leadership positions with Bass Pro Shops, Sports Authority, Gaylan's Trading Company and Oshman's Sporting Goods.
Mr. Walker holds a Bachelor of Arts in Business Management from West Virginia University and served as an officer in the United States Army.
About Sportsman's Warehouse Holdings, Inc.
Sportsman's Warehouse is an outdoor sporting goods retailer focused on meeting the everyday needs of the seasoned outdoor veteran, the first-time participant and every enthusiast in between. Our mission is to provide a one-stop shopping experience that equips our customers with the right quality, brand name hunting, shooting, fishing and camping gear to maximize their enjoyment of the outdoors.
For press releases and certain additional information about the Company, visit the Investor Relations section of the Company's website at www.sportsmans.com.
Investor Contact:
ICR, Inc.Rachel Schacter
(203) 682-8200
investors@sportsmanswarehouse.com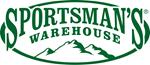 Source: Sportsman's Warehouse Holdings, Inc.