Sportsman's Warehouse Begins Annual Maintain the Terrain Events To Help Conserve the Environment
May 24, 2023 at 7:03 PM EDT
Volunteers help clean up their local communities and have fun outdoors
WEST JORDAN, Utah, May 24, 2023 (GLOBE NEWSWIRE) -- Sportsman's Warehouse Holdings, Inc. (Nasdaq: SPWH), www.sportsmans.com, announced today that their annual Maintain the Terrain clean-up events this year will occur in May and August.

In addition to supporting groups such as Ducks Unlimited, Rocky Mountain Elk Foundation, Mule Deer Foundation, and the National Wild Turkey Federation, and following the principles of the Leave No Trace Center for Outdoor Ethics in collaboration with the U.S. Forest Service and the National Park Service, the Maintain the Terrain events are part of the Sportsman's Warehouse commitment to conserve the environment.
As the third year of the Maintain the Terrain events begin, each Sportsman's Warehouse store organizes a clean-up event in the local communities where they do business. Store Associates meet on a weekend morning with local volunteers at various, outdoor areas including lakes, rivers, campgrounds, shooting ranges, hunting areas, and parks. Participants of all ages then spread out and collect debris for several hours. The trash is then taken to the local land fill or recycled accordingly.
"In 2022, over 1000 volunteers in 122 locations participated with a total of 185 individual events in the communities they serve," states Jason Shriver, Sportsman's Warehouse Regional Manager. "Participants removed approximately 80 to 100 tons of trash and debris, and we look forward to helping to preserve even more of the natural beauty of the outdoors with 280 Maintain the Terrain events planned this year."
Everyone is invited to participate in the upcoming Maintain the Terrain events. For more information, volunteers can contact their local Sportsman's Warehouse store at www.sportsmans.com.
About Sportsman's Warehouse
Sportsman's Warehouse Holdings, Inc. is an outdoor specialty retailer focused on meeting the needs of the seasoned outdoor veteran, the first-time participant, and everyone in between. We provide outstanding gear and exceptional service to inspire outdoor memories. For more information, visit www.sportsmans.com.
Media Contact: Melanie Rembrandt, Rembrandt Communications, 800-771-0116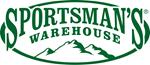 Source: Sportsman's Warehouse Holdings, Inc.